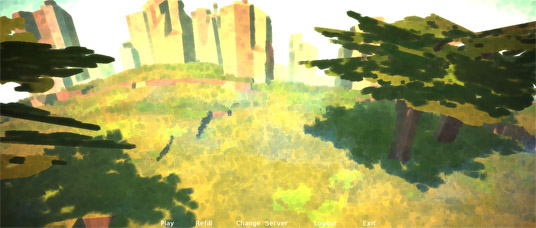 Kind of surprised that there isn't an existing thread for this game... Disclaimer - I have only been playing for 3 days. However, I can already see that this is one of the most ambitious games I've ever played, and though it has its shortcomings, it's something that I'll be keeping an eye on in the future.
LOVE
is a game that's kind of hard to describe. It's often placed in the MMO genre but I wouldn't really say that's the case. It's the product of
one guy
(who's been working on it for God knows how long) and it recently came out of Beta. It costs $12/€10 for a 30 day subscription. The client is just an .exe so it doesn't install on your system and in total it takes up less than 50mb of space on your HDD.
So what's it like? As I've said, it's hard to explain. The best way to understand what this game is about is by seeing for yourself:
this video
does a good job of demonstrating the core gameplay elements. It's a bit long, but I think you'll be impressed. Keep exploring the site for some more screenshots and videos... one thing I'll advise is that you don't disregard the game because you're unimpressed with the art style. Some love it, some hate it, but it's easy to look beyond it once you start playing the game.
I would describe LOVE as a not-so-massively-first-person-collaborative-adventure-game (NSMFPCAG). Basically, the point of the game is to collaborate with others and develop your settlement. 300 people can play together on a given server but I have never been logged in at a time when more than 15 people are playing. I'm guessing there have never been more than 50 concurrent players, but the game is still new and this does not detract from the core gameplay at all. In developing your city, you are tasking with going out into the world and searching for "token seeds." The seeds can be easy or difficult to find, but what makes looking for them fun is that the world of LOVE is more impressive than any I've seen in any other game.
It's huge, it's persistent, and it's procedurally generated. Exploring the world is honestly one of the most fun parts of the game simply because it has such personality. Every change you make to the world (and you can change it DRASTICALLY) is permanent, as is every change the AI makes. The ruins of your settlement will persist, so it's possible that another player or an AI may chance upon them and decide to rebuild. I could ramble on for a very long time about the world, because it's truly an amazing creation.
What LOVE does better than anything else is empower the player. You can do whatever you want in the world, save for attacking other players. There is (as of yet) no PvP element to the game, though you can indirectly compete with other settlements over resources, etc. You cannot harm other players because that is contrary to the collaborative mentality of LOVE. The only enemies are the AI settlements, but this is hardly a shortcoming. The AI behave exactly like other players would (i.e. they don't cheat or hack) and yet they are so skilled that I am routinely amazed when I see the structures and cities they create.
There's so much that I've skipped over (infrastructure, raids, city building, mining...) but this thread's getting a bit long, so time to wrap things up.
TL;DR = LOVE is awesome and you should check it out.
I may not choose to renew my 30 day subscription when it runs out because the game is still very beta, and it does have several bugs, but I know I'll be coming back in the future. Anyone else play it? Have any questions?
As a reward for having read this far, you get a special treat: LOVE gives every player a "friend account" that can log-in to the same server whenever the main account is playing. If you'd like to give the game a shot, send me a PM and I'll give you the account information and a time during which I'll be playing.