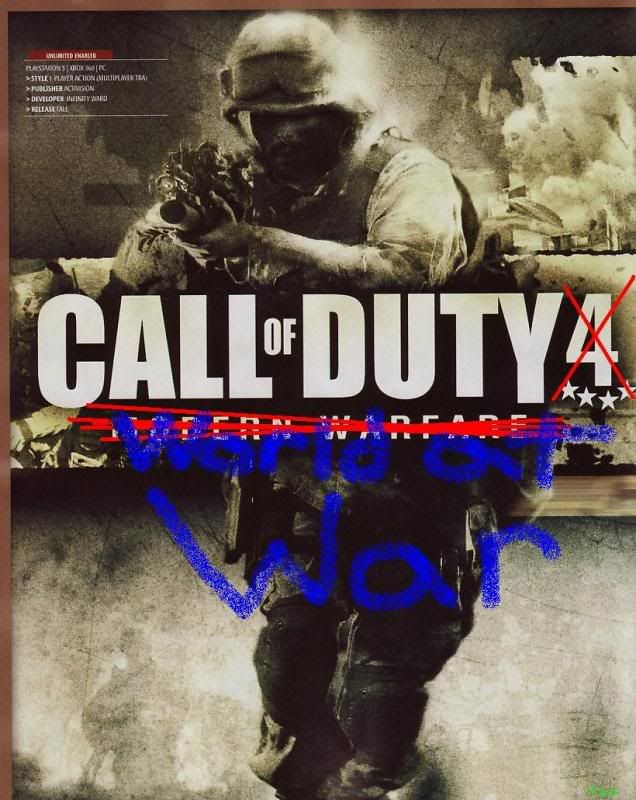 Metacritic: 85 / 100
My initial pre-scored ranking: 9/10
Explanation of intro pic: Although the game is basically modeled exactly off of call of duty 4, I would say this game fixed what was wrong with call of duty 4 to begin with. I guess you could say, it's another game that plays the same, but with different stories, guns, vehicles, lands, and maps. Although usually making an exact replica of a game can be bad in some cases, there are other times where that's actually a better way to do it. Best example: Ocarina of Time + Majora's Mask, still played the same, familiar like items, and of course similar but more extravagant puzzles. That's really what Cod 4 - Cod:waw is. Same controls, still shooting people with guns in the same way / setup, and the campaign and multiplayer have thrown in some twists.
Campaign:
The campaign in this game was probably one of my least favorite campaign's I have ever played in any first person shooter. Usually I care and really enjoy the story, cod 4 had left me speechless on it's campaign. I still replay it and try to get veteran on those levels, but this game really doesn't do it for me. I think the main reason is that they gave it a more history over view briefing rather than a personal feeling like cod 4 did. The only times did I like playing was when I was playing a Russian, added more feeling and emotion to the game. So the story overall is going to be based on your pre-knowledge of WW2 as they don't give you a lot of great detail but brief over views and short clip scenes.
The gameplay of the campaign was pretty amazing however. I would rate this campaign as one of the most action packed ammo abusive titles I have ever picked up. They really did a great job showing how crazy the battlefields could be, how tricky those japs were, and how fucking many people there were to kill. Holy shit. On hardened I was dropping air strikes every 15 seconds and unloading as many shells as possible into a huge pile of people but they still kept coming. Some gun fights could last about 10-30 minutes. This game is also much harder than cod 4 in my opinion. I would say hardened in this game is about the same as veteran in cod 4.
The other benefit to this game is that it's alot darker than most fps games are. It shows the brutal tactics used in those days and how strong and massive the Japan army was. I just love the over all tone and feel of the campaign. Very nice.
Co-op. That's right. Co-op. Online or split screen. Yes. A 360 game that is good with a pretty fun campaign has a split screen co-op. It's the equivilant of Halo and how they did their split screen. Except when your buddy goes down... he's down. You have to run over to your body and frantically take cover and hold x to revive him as bullets wiz by and a grenade lands at your feet. These japs will throw your grenades back at you so you better cook that fucker before tossing it back unless they already pre-cooked it for you. It's hard to say when your friends and npcs throw grenades and then they get thrown back. It's complete madness. Just the way a fps battle field should be. You can only do co-op with up to 4 players.
They added a new tidbit to the series too. It's probably the most addictive game I've played on the 360 and I can't stop playing it. Nazi Zombies. This is also split screen or online with up to 4 players.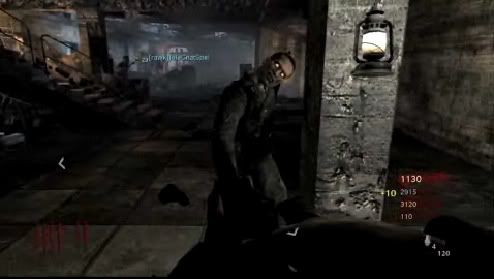 Imagine a two story house in a creepy foggy swamp. The house is boarded and locked up. Debris has fallen in various areas. The walls and floors are strapped with guns and boxes containing guns. You look in the distance, a figure is walking closer to the house, but you're not quite sure what. All you know is that there was a cut scene with a mother fucking zombie about to chase you down and now you're thrown into this hellish nightmare. As he gets closer, you can see his red eyes, you pick up that rifle on the way and place a bullet between his eyes. 10 points. Zombies are now attacking the south side, they broke through your barrier and they are charging at you sprinting full on. You shoot for the legs because even if you shoot them in the head, they are moving too fast and they'll still get to you and rip you to shreds. You die in two attacks unless you regen health. They can crawl for you, run headless, and sprint like you wouldn't believe.
As you move through the pile of dead bodies, you pick up guns, remove debris and overall just waste your points because each wave of zombie will give you more than enough. It's smart to repair up your barriers too since that slows them down and gives you points. The zombies drop power ups and other fun things that help you. The furthest I have gotten with a friend is level 15. No one knows how high it goes, we assume it's just an arcade game that gets harder and harder. The level I was at, I was shooting the browning (big gun that literally tears peoples limbs off in multiplayer) and my friend was using his alien zap ray ( 1 hit kill lucky random weapon). Even though were placed in a nice corner with a clear 20-30 foot run of the floor. We fired continuously into that swarm until they over took us. The game is intense. I would easily of paid 20 bucks just for this. It gets boring solo, but throw in a bunch of friends, 4 tvs, 4 360s, and it's a blast. Easy communication and way fun team work.
Through all the pluses and downs of the campaign. I would say
8/10
over all as I was horribly disappointed at two things. The campaign's story that I talked about. Just didn't feel that connection with the characters. I didn't care. The split screen. Why the fuck did they make the split screen that way? I mean... at least they included it unlike those other asshole gaming producers. There is a bit of scenery to your right and left hand side, in short. They made your screen 1/3 smaller then it had to be. It wouldn't make that much difference to me, but doing split screen on a 20 inch shitty tv is brutal.
Weapons, perks, vehicles, maps, multiplayer:
A lot of people were nervous about the guns. WW2 guns weren't nearly as great as today's, and how they implemented the iron sights in this game was very well done. If you were worried about the guns sucking and not having any good gun to look forward to, don't worry any more. The game was easily played through with the guns I found or they gave me. I had no real problems using the guns at all, I had more problems keeping up with all the ammo I was pumping out into those damn Japs. Crazy fuckers, run through a line of us firing machine guns into em as a pair of Bonsais came up from the back.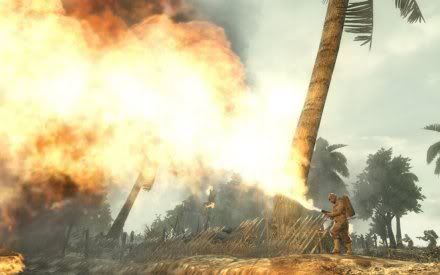 The
guns
in multiplayer are much the same as cod 4. Same leveling system, but this time it's much easier and a lot faster to level up. The guns as you use them, they will gain xp and level up. Eventually you will get aperture sites, silencers, grenade launcher additions, and a bunch of other cool stuff.
They added new perks and fixed some older ones.
The coolest new feature I found was the last stand is now second chance. You still have that last stand deal going on, but your team mate can revive you if you have the same perk as them. They can also see their buddies on the mini map if they are down and able to be revived. When you party up with a friend and cover each other's backs and have that perk, you rape.
Of course everyone has heard of the flame thrower. In case you think it might be over powered, it has small range and if people abuse it too much, you can always use your perk which helps make you fire resistant.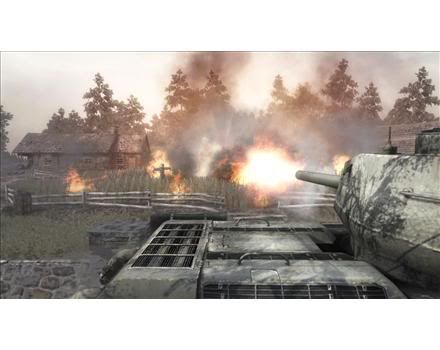 Tanks.
Fuck tanks. Tanks are the only things that ruin the multiplayer for me. They should not of added vehicles, I am hoping for a fix soon or a patch or something to get rid or make them easier. Takes 3 explosives to kill them. You at most have 3 per life if you chose those as your perks. The easiest fix I found is to hide in a building, set up bouncing betties ( proximity mines) around your entrances, shoot bullets, and let the dumb tards run into the building and blow themselves up as you shoot the others running towards the back of the building.
Maps
are fixed up and just over all better this time around. I honestly have no complaints other than I wish they would offer just like 3 or 4 smaller maps for friends to play in like a 2 v 2 or 4 v 4 or maybe even 1 v 1. The only maps I don't like are the maps with tanks because there are tanks there, otherwise I hate no maps. No flaws. It's not impossible to just board yourself in a hole and camp and the maps are pretty even. There are hackers and some glitches in the maps online. As long as you report or rank them negatively after the match you won't be paired with them again though.
They changed the multiplayer a bit. They added new game modes like capture the flag. They changed the bonuses for the multiplayer as well.
- 3 kills = Radar
- 5 kills = Artillery
- 7 kills = Dogs
Radar:
I shouldn't have to explain this to you. Stop reading this and go down to the artillery section. There's actually useful in there.
Artillery:
It's like air strikes from cod 4. You pick an area on the map, it gets bombed to hell. Simple enough
Dogs:
Better then helicopter.
1. Dogs are killable
2. Dogs give you 3 points or 2 points per kill. Not sure what gives that difference.
3. There are like 8-10 dogs.
4. You still get lots of points from dogs because people suck. They are great at distractions, and lead you to the other team. The other team can kill them and get points and they are not ridiculously over powered like helicopters were. A much needed fix to the point system in my opinion.
This section:
9/10.
Fuck tanks and fuck not having smaller maps.

Graphics and sound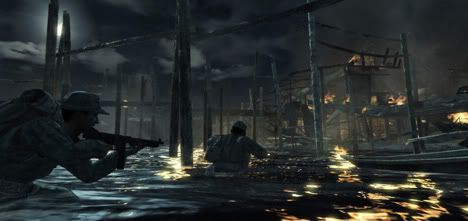 The graphics and environment is awesome. The mood and tone is dark and saddening. But yet also dangerous and electric. The graphics are great like every new game out today, I won't go further into that. The sound is what makes this top notch. The music is great during campaign and multiplayer. Sound is actually one of the keys to a successful multiplayer match. Listen and sit still, you can hear the pitter patter of foot steps trailing from behind you. Walking on wood makes you louder, same as waking in water. You splash a lot I guess. Sprinting makes your foot steps louder.
10/10. Well implemented sound in the game and I love the graphics.
Soooooooo.

Campaign: 8/10
Weapons, perks, vehicles, maps, multiplayer: 9/10
Graphics and sound: 10/109/10 end score
If you love console shooters and also love realistic shooters, then buy the damn game. It is amazing and addicting. If you don't care for either and weren't a fan of cod 4, you probably won't be a fan of this one. I loved cod 4, I loved cod waw, cod 2 was decent, and cod 3 sucks my balls.
For people who hate realistic first person shooters that were based during the WW2 era, not to be confused with the players who wished it was something else but still appreciate the gameplay for being fun:

3.5/10 end score
Graphics, sound, and nazi zombies. Only things it's rated for.
I don't know about the other game versions like wii or ps3. So don't bring that up. Want a quick thought about them? Wii is probably shittier and ps3 probably has better graphics. There you go.
Hope the review was not boring or too long. I gave it a bit of a different writing style this time because I am fucking torched right now. Enjoy.
Edited by The Colonel, 06 August 2009 - 10:25 PM.