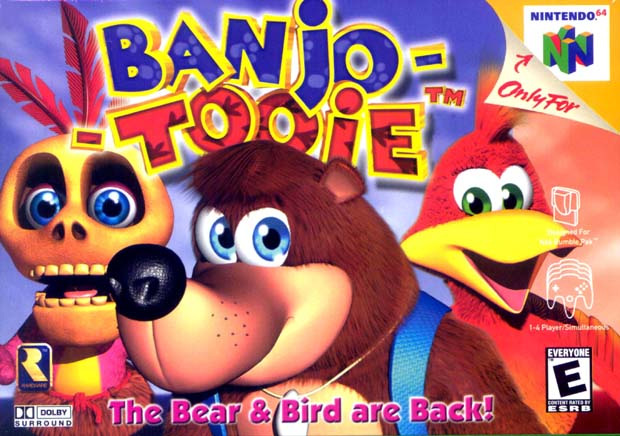 Banjo-TooieDeveloped by RareReleased in 2000
INTRODUCTION
Of all the great games I missed out on in my ten years of having a Nintendo 64, the game I've regretfully procrastinated the most with
is Banjo-Tooie. For reasons unknown to me, I never bought the sequel to one of my most cherished games of all time, and it was only
until a little more than a month ago that I got myself a copy. Playing through the game was a blast, and I was hit with a huge wave of
excitement and nostalgia I can associate only with holding that W-shaped controller in my hand.
It's games like Tooie that make me shameful of the direction that technology and video games took. All of the attempts to improve
graphics, physics, and other effects seem to have made developers lose sight of what really makes an amazing game. The kids & nooblets I
hear mocking a game for its poor graphics (and praising one with great visuals) have my pity. Although there were some excellent games
released within the past few years, nothing can compare to gems and classics like these.
Enough of my depressing post-nostalgic rants, on to the review.
STORY & CHARACTERS
One of the shining features of the game is the improvements and additions to the story and character elements of the game. Banjo's
character as the innocent, but eager bear, and Kazooie as the impatient, loud-mouthed, and fast-witted bird. Characters who couldn't be
more different from each other being found together as witch-dueling companions can be described as nothing else but completely charming.
The story begins when Banjo, Kazooie, Mumbo, and Bottles are playing a (not very legitimate) game of poker, and Grunty's two sisters come
to release her from the rock she was trapped under. After leaving her ditch skin-less and weak, she attempts to attack Banjo & Kazooie.
Instead, Bottles gets hit and killed the cross-fire, and the dynamic duo seek to get revenge. Little time passes before they learn of the
witches' other fiendish plans...
VISUALS & AUDIO
Like the previous game in the series, the graphics and design are as good as any N64 Rare game gets. Each level is unique, memorable,
and a load of fun to beat. Like Banjo-Kazooie, the magnitude and detail commonly exceed that of the console's capacity, and frame-rate
takes huge dives when you look towards a vast expanse of land. Usually, the sheer quality of the game brings my impressions past these
flaws, but some challenges that are timed become increasingly difficult because of choppy visuals.
The music that is beautifully paired up with each level is unforgettable and brilliantly written. Of the many great aspects that the
game offered, the music and sound were one of the segments I anticipated the most. Each level's theme introduced a different environment
and mood, which really made each level a blast to play through. A really interesting addition was that the overworld (Isle O' Hags) had
a single melody, but varying instruments and themes introduced each area in a different way.
My favourite tracks:
1.
Glitter Gulch Mine
2.
Hailfire Peaks (Lava Side)
3.
Atlantis
GAMEPLAY
Although the game is very similar to the the previous game in the series, there are a few significant differences. The most significant
of them all is the transition to the idea of connected worlds. Banjo-Kazooie introduced each level as an isolated area, affecting only
the world inside, and commonly, the over-world neighbouring it. In Tooie, however, some puzzles and challenges will require you to complete
tasks in other levels. Although the idea of a massive, connected world is appealing (as well as entertaining), it requires a lot of running
back and forth, which make strike some as just plain tedious.
Another great addition to the game was the ability to split up and play as Banjo or Kazooie individually. Prior to owning the game, I
expected the split to be on account of a dramatic argument -- to my disappointment, you step on a pad and press
A
. The ability to
separate adds to the variety of puzzles, and allows for some intuitive challenges as well.
The only complaint I really have about the game is the difficulty of achieving 100% status. Looking for the final
Cheato Page
, I
regretfully stooped to the low level of looking up a guide. Mind you, I spent more than 9 hours in the level looking for it, only to learn
it was in a secluded area I probably wouldn't have figured out was there for another 4 hours.
OVERALL
The game is a great sequel, and makes an excellent addition to the series. I wouldn't go as far as to say that it surpasses Kazooie, but
it's definitely a worthy successor. If you enjoyed Kazooie, I recommend playing through Tooie at least once. In an industry highly
populated by generic rehashes of existing games, it's good to experience some of the games that fill us with nothing but bliss and joy.
I'd recommend emulating the game (if you have a controller for your PC), or wait for the Xbox Live Arcade version to be released, simply
because of the hardware-software issues. After all, a great game like this should be experienced with as few flaws as possible.
Looking forward to seeing what Nuts & Bolts will bring to the series.
Amazing:
9.5
/10
Edited by The Colonel, 06 August 2009 - 10:41 PM.