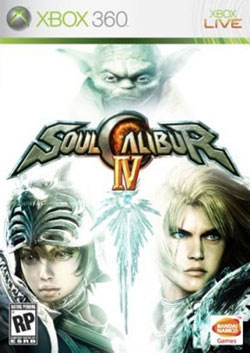 Published by: Namco Bandai
Developed by: Project Soul
Genre: Fighting
Number of Players: 1-2
Release Date:
US: July 29, 2008
Console: X360/PS3
Summer is here, and there's a fantastic new way to spend it. Soul Caliber 4 has arrived at last. The game now boasting over 30 playable characters, weapon fighting combat, online play, and the addition of the star wars universe – allowing yoda, darth vader, and the apprentice from "The Force Unleashed" (coming in September) to be played.
For those unfamiliar with the SC series, Soul Caliber is a fighting game that uses weapon combat. Each character is equipped with a different weapon allowing for many creative combat animations and fighting techniques. It's got its own creative fighting engine and uses the idea of weapon combat and transforms it into a very solid fighting game. I would say back in the days of Soul Caliber 1 & 2 the fighting generally appealed to more new players, as in most cases it could be easy to button mash your way to victory. Now Soul Caliber 4 has revamped its fighting engine to still appeal to the mass gaming audience but also really show its colours to the hardcore veterans of the series or those willing to put the time in to get good.
I heart Talim <3
There are many different moves for each character (except character clones) but to really pull of the powerful moves on some characters it will take some time to master the button combinations. The problem with the combat in SCIV is that while there are many different types of moves, for the most part in fights, I only find myself using my core moves. Some basic horizontal and vertical slashes and I will have the enemy on the ground. While this could be because the game is new and players are still trying to master their skills, it shows that many players will generally be able to get away with button mashing their way to victory. The more complicated and stylish moves are there, don't get me wrong, but in order to pull them off your going to have to get really good and hope your opponent doesn't get all up in your face with random button mash combos. This really shows that only the extremely talented players in the game will really take advantage of their skill, while others may be troubled and feel that players play 'cheap'. Most of the time in fighting games, the more time you put into it, the idea is that you will crush people who haven't played as much as you. While the reasons stated above may hurt this ideal that fighting games have, it's not always 100% true when it comes to combat in this game. A new player may be able to button mash his way to victory against you a few times, but generally you will have the edge and should be able to dominate.
For those that do not know, the Xbox 360 version of SCIV comes packaged with Yoda, while the PS3 version gets Darth Vader. Both games also come with the apprentice from "The Force Unleashed". While I feel that the apprentice has a really balanced feel to him, I just can't get over the fact that Yoda is broken. Yes, Yoda could possibly be the worst character added to the SC series. Anyone who's played their share of SCIV will tell you that Yoda is unfair. He is small, so any of your high attacks which you would normally use will go right over his head, added to that you also cannot grab or throw him. Those two things are such significant handicaps to Yoda that it makes him broken. You just can't take a fight with Yoda seriously, or call it fair. As much as I wanted to believe that Yoda couldn't be broken, I'm sorry to say that he is just plainly overpowered. Even though Yoda is an issue, I wouldn't say that this will ruin your gameplay experience when it comes down to it. There are plenty of other balanced characters to choose from, which still gives a great fighting experience.
SCIV has added four completely new things to the table. Now every character in the game has their own personal critical finishes. Essentially a critical finish is a stylish CGI video showing your character finishing off your opponent. Don't worry though, although a critical finish kills a player in 1 hit, getting all the requirements to pull off a critical finish are rare especially in a normal battle with someone online. It all has to do with how much you or your opponent blocks. The idea of critical finishes is to make you think more about focusing on offensive attacks rather than cowering and blocking throughout matches. Overall I am very pleased with the addition of critical finishes, the CGI video's are beautiful and have to be seen, and can add some great excitement if you manage to pull one off. Not to mention that it adds more tactics to how you plan on taking out your opponents.
Yoda and The Apprentice
Secondly, SCIV has now added the "tower of lost souls" to the main single player experience. While previous soul caliber games came packaged with Story and Arcade mode (which still exist in SCIV) tower of lost souls in a completely new addition which allows players to either ascend the tower fighting many different bosses or descend down the tower fighting waves and waves of enemies. Again, this is a welcome addition to the SC series, this will add a lot of playtime value to the game, because not only is it all ranked, but the further you get down the tower to more new weapon, armor, and items you will receive. This brings us to the next fantastic feature of Soul Caliber IV - Character customization! Basically you can pick any character in the roster (or make your own character) and upgrade them, change the way they look (hairstyles, armor, weapons), and preference a character to your liking. This really adds great dimensions to the game as it brings out many different creations from different players around the world. You can take your custom characters online and fight in ranked matches. In fact in some online games I've played, I've seen people create characters that look like Bruce lee and a character that looked like Cloud from FFVII. It's a very awesome addition to the SC series and will please SC vets and new players alike. You can't deny that making your own character from scratch is not awesome. Upgrading their armor, making them better defensively, offensively, or raising your HP, it's all so sweet. There are also skill sets that allow you to choose between different skills. Some skills will prevent you from getting grabbed, while others will lower the chances of you getting a ring out. Even if for some reason you don't like this, you can just play standard ranked matches that disclude all skills, and weapon, damage, and HP bonuses.
Finally the most important new addition to SCIV is the online play. There's really nothing to be disappointed at when it comes to the online play. I would say that this is the bread and butter of the game. It will be the sole reason that will keep you coming back. When you play ranked matches you start at level 1, and the more battles you win the higher you will level up. It's addicting and will make you strive to get better. Out of all the games I've played online so far, which is probably over 85 by now only 2 or 3 have lagged, and the lag wasn't bad at all. So don't worry about lag, it's much better than DOA4 when it comes to lag. The Online is seamless, fun, and another great addition to SCIV.
The last great thing about this game is the level of detail that is put into the graphics. Each character looks fantastic as well as each piece of armor and every emotion. The game feels very polished and the graphic style is very vivid and bright. I would say it's one of the better graphics in a fighting game that I have seen. The artistic design is wonderful. Not to mention that with all these highly detailed graphics the game still runs seamlessly at 60 frames per second, staying true to its fast paced fighting.
Closing Comments
Soul Caliber IV is a fighting game designed for new players and veterans alike. The combat is fun and stylish, but generally players without much experience can still beat the most experienced players by button mashing. Not only that, but the moves used to KO the player can be repetitive and aren't always the more intense moves to pull off. It's not the biggest of problems, but it can dampen your fun when you lose to a level 2 from weak vertical slashes. Looking past that though, there are so many different things to complete and unlock in the game it will keep you busy for a very long time. Even if you're not playing online, you will find many different things to accomplish throughout the single player experience that will strengthen your love for Soul Caliber. You should not be disappointed with this game and it could make a welcome addition to your game library if you decide to pick it up this summer.
Presentation - 9.0 – Adding characters from star wars, lots of unlockables, and a fantastic atmosphere make this all very enjoyable.
Graphics – 9.0 – Amazing detail found throughout every character. Bright and vivid graphics make this game very beautiful, and best of all it's all running at 60FPS. Excellent fighting animations.
Sound – 8.0 – Enjoyable fighting music with subpar English voice acting.
Gameplay - 8.5 – Over 30 characters, Online play, Character customization, countless stylish moves to learn. Appeal to new players is very prevalent, button mashers can get far in this game.
Lasting Appeal – 9.5 – Lots to unlock, tons of characters to learn, and online play to get your soul burning and keep it burning for a long time.
Overall –
8.6
/10
(not an average)
QUOTE
Plasmic Fury's Rating Scale
10 = Masterpiece
Not all games are perfect, but a 10 comes close and is something very speical and rare - It is without a doubt a must buy regardless of what genre's you like.
9.5 - 9.9 = Increadible
Titles that get in this score range are fantastic achievements in design, gameplay, and story - usually all of the above. These are titles at the top of their field and are worhtly of your hard earned dollars.
9.0 - 9.4 = Outstanding
If a game gets in this range you know that it is a worthwhile experiance with only a few minor flaws. If you are the least bit interested in the series/genre it is recommended for a buy.
8.0 - 8.9 = Great
A strong gaming experiance that misses some key elements in a few areas. While still highly recommended for a buy, if you are not interested in the genre/series these games could be skipped.
7.0 - 7.9 = Decent
A title that is still quite fun but has significant flaws which drag down the gameplay, hindering a good experiance throughout the game. Games that fall under this score are recommended for a rent or quite possibilty a buy if you are a fan of the series.
4.0 - 6.9 = Poor
A generic title that doesn't offer anything new to the table with obvious and serious flaws. Games under this category are not advised for a buy although you may be able to squeeze some fun out of them with a rent.
0.1 - 3.9 = Terrible
Titles that ensure a terrible gaming experiance. Do not buy or rent, just avoid them at all costs.
Edited by The Colonel, 06 August 2009 - 10:48 PM.