De Blob(PC)
Developed by Various Students of Game Design & Development at the Utrecht School of the Arts
Published by Bannana Games
Gameplay
Ready to paint the town red? Or blue? Or whatever color you choose? Well, are you ready?
(Image courtesy of De Blob's download site)
De Blob is a Free-Roaming Exploration game in the Vein of titles like Katamari Damacy and Cloud
QUOTE (Joost Van Dongen - Lead Programmer)
It is a 3D game in which the player controls a ball of paint rolling through the city. The ball can absorb coloured NPC's to become larger and change its colour. With the paint, the player can then proceed to paint the entire city. Almost everything is paintable: buildings, trees, cars and using the paint trace even the ground. The main goal of the game is to paint all 17 landmark buildings. Hardcore fanatics can also try to collect all 50 coins that are hidden around the level.
That pretty much sums it up, and although there isn't much story to it (c'mon, it was a side project), I'll try to sum it up as best I can: You're an alien thingy that looks very much like a blob. You crash land on this town (which looks surprisingly like Utrecht in the future), and you notice that it's all monochrome. There's a company there called I.N.K.T. and they've taken the liberty of stealing the color from the town. It's up to you to absorb the townspeople and use their color to repaint the town.
Yeah, sounds pretty trippy, right? Well, forget it. It's a good thing this game doesn't rely on story, otherwise it'd be sunk. What it does rely on, however, is exploration. You've got a pretty big sandbox environment for such a small project, and there's quite a bit to see and do. There's a load of little tricks to discover, and collecting the 50 coins is a bit of a challenge if you're up to it. However, if you aren't worried about your score or fully completing the game, you can paint the whole town in about an hour or so if you're quick. One problem with De Blob is that there's no way to save your progress; it restarts the game every time you quit. It records your high scores, but other than that you have nothing to show for your play. However, most of the time I just play it for a quick diversion, so that never bothered me much. It would still be fun to have been able to save my progress and come back the next day to repaint the town in another set of colors, or to work on those last few coins...
Control in this game is polished, at least to the extent of a well made homebrew project. It may not be the most responsive or tightest controls, but they work just fine. What really stands out, however, is the games physic engine (or illusion of one). Controls might feel a bit slick, but is that because they are or because you're supposed to be controlling a slippery alien blob? The way De Blob creates this sense of illusion is quite charming; even though I would discount other games that claimed this was the reason for sloppy controls, De Blob has no sloppy controls: You're doing most of the imagining through the way the game sounds and looks.
8.5/10
Graphics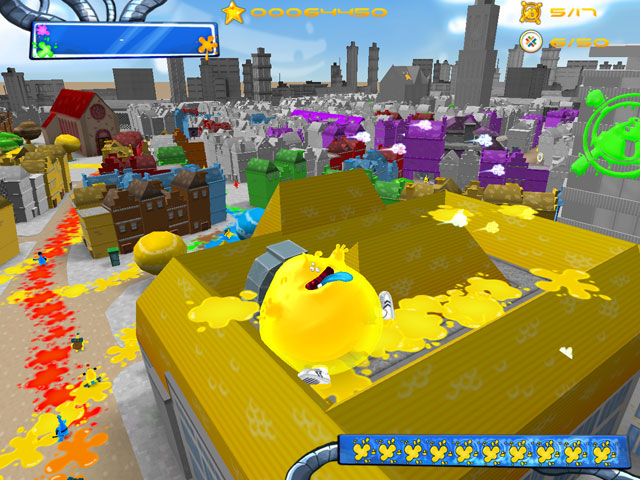 De Blob has a quirky cell-shaded style, which suits the unorthodox game well
(Image courtesy of fun-motion.com; which is where I first found De Blob)
De Blob doesn't have much going for it in the way of graphical innovation or ingenuity, but it is quite nice nonetheless. The main character is rendered quite nicely, as are the various townspeople and I.N.K.T. Agents. Although the city looks a bit blocky in the comical sense, that and various little touches (like trains coming in and out of the station, people running for cover when you get near, cars and buses making their rounds) help give the game it's wimsical feel. While not the most stunning project I've seen, it's still a looker and I was hooked by it's art style; it reminds me of something like what would happen if Crayola started making videogames.
8.0//10
Sound
There's not much of a need to comment on the music; as there is only one track for the game (like most small projects). However, it is a soothing ambient track that doesn't offer much distraction, and the various sound effects add enough music to the game and help give it the atmosphere it needs.
5/10
Conclusion
Overall Rating: 7.5/10 (I wouldn't pay for it, but it's free, so it's definitely worth a download)
While not as big as most games, you can't argue with free innovation. De Blob is quite a fun diversion, although replay value is somewhat hampered unless you really fall in love with the characters and environment. Overall, I'd recommend you to try it. It's free, and if you don't like it, just uninstall it
You can find the original, freeware version of De blob
here
. It's around 100Mb, and even though the website is in Dutch, it's easy to find.
Note: This is not De Blob for the Wii or DS, which is currently in development. From what I've seen, that game is going with the same basic principles of the game, but they're putting their own spin on it. In time we'll see how that works out.
Edited by The Colonel, 06 August 2009 - 11:00 PM.